Deep Art Effects for desktop pc
Unique Digital Art Creation
Deep Art Effects allows anyone to be digitally creative and get the most out of their images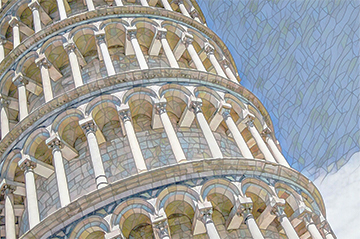 Create digital art from your images or videos
Intelligent one click optimization for images or videos
State of the art image processing technology available
Buy now
Did we meet at Photokina?

With Deep Art Effects you have the ability to use the latest intelligent image technology.
Creates amazing works of art
Turn images or videos into works of art. Use your own styles with our Vincent AI or choose from pre-defined art filters.
Use a variety of parameters to create your individual artwork.
Render images in any resolution. Render in original resolution to get high quality artwork.
Use different AI models to create art. Choose from our AI art filters, our abstract intelligence or the Vincent AI. Each intelligence produces unique results.
Works completely offline
We don't transfer data to the cloud. All calculations for rendering run on your PC.
Render your images or videos offline. No data transfer to backend servers.
Intelligently scales photos
Intelligent scaling for your images. 4x magnification using Artificial Intelligence.
Completely customizable
Not only choose from pre-defined art filters, but also combine any works of art. Take artwork from your favorite artists and create your own artwork from your photos.
Adjust brush size and style intensity to customize your digital artwork.
Use numerous image parameters, such as contrast, saturation and brightness, to perfectly match the result.
Colors grayscale images automatically
Bring old black and white pictures or videos to life with our AI for automatic coloring.
Automatically optimizes images and videos
Use artificial intelligence to automatically optimize images in color balance, contrast, and brightness.
Exhibition attraction guaranteed
Use the webcam mode to artistically display your surroundings in real time. This type of user attraction is already being used at trade fairs and museums.
How is it different? One click automation magic.
With one click you get works of art, optimized images or videos with the help of artificial intelligence. No creative talent is necessary.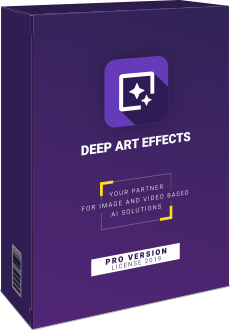 All

Features include

Free

Updates

Free

Support Service

Free

New Filters
Best Price Per Month
All

Features include

Free

Updates

Free

Support Service

Free

New Filters
Best Price Per Month
All

Features include

Free

Updates

Free

Support Service

Free

New Filters
Best Price Per Month
Love it! One of only 2 such apps I've found that allows you to use the original colors of the photo you're processing. This is a huge plus. I bought the premium version at a very low price, and have been using it heavily for weeks. During very heavy use there is the occasional force close, but reopening the app fixes that, and you're good to go. No ads is brilliant, too.

Maija Bradford
Awesome app, so many options! I rarely spend money on IAP's, but I couldn't pass on the premium version. The extra features are well worth the price. High-res styles, new premium styles (bringing the total to 63 styles), removing ads, removing watermarks, and being able to keep original colors. An already great app is made even better. :)

Samuel Irvin
Awesome app. so much fun to jazz up any old photo into a superb piece of art. So many creative uses for this app from greeting cards to posters and more. In fact many items can be purchased straight through the app from mugs to t-shirts, etc using one's own 'artwork'. I rarely ever write reviews bit this is one app I'm happy to review. Big thumbs up. I'm addicted. I bought premium version for under 5$ although it's not required as free version is great.

Carcar
LOOKING FOR MORE TOUCHPOINTS?
Get Access
To use all functions of the desktop software, you need a product key. You will also receive continuous updates, new art styles and free support.
Get Access